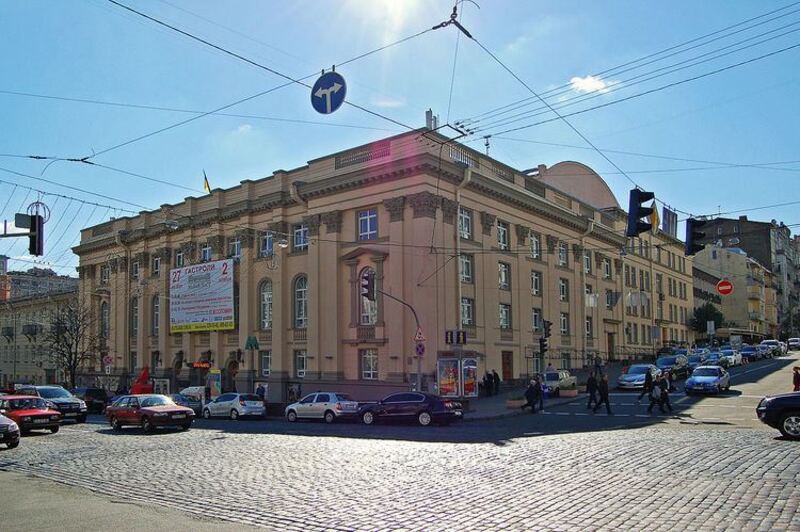 Lesya Ukrainka National Academic Theater
Lesya Ukrainka National Academic Theater (also referred to as Lesya Ukrainka Theater) is a theater in Kyiv, Ukraine. It is located in a building known as Bourgogne Theatre.
Founded in 1926, the theater produces many important plays of Russian and Ukrainian dramatic art. Its repertoire consists of plays by famous playwrights such as Fyodor Dostoevsky, Mikhail Bulgakov and others. Many current movie actors have started their career in the theater.
The theatre traces its roots to the Solovtsov theatric troupe that existed in Kyiv since 1891 and also performed in the Bourgogne Theatre. Later the troupe was named as the Russian Drama Theatre
Lesya Ukrainka was one of Ukrainian literature's foremost writers, best known for her poems and plays. She was also an active political, civil, and feminist activist.
Among her best-known works are the collections of poems On the wings of songs (1893), Thoughts and Dreams (1899), Echos (1902), the epic poem Ancient fairy tale (1893), One word (1903), plays Princess (1913), Cassandra (1903—1907), In the Catacombs (1905), and Forest Song (1911)
Lesya Ukrainka was born in 1871 in the town of Novohrad-Volynskyi of Ukraine. She was the second child of Ukrainian writer and publisher Olha Drahomanova-Kosach, better known under her literary pseudonym Olena Pchilka. Ukrainka's father was Petro Antonovych Kosach (from the Kosača noble family), head of the district assembly of conciliators, who came from the northern part of Chernihiv province. After completing high school in Chernihiv Gymnasium, Kosach studied mathematics at the University of Petersburg. Two years later, her father moved to Kyiv University and graduated with a law degree. In 1868 he married Olha Drahomaniv, who was the sister of his friend Mykhaylo Petrovych Drahomanov, a well-known Ukrainian scientist, historian, philosopher, folklorist, and public figure. Her father was devoted to the advancement of Ukrainian culture and financially supported Ukrainian publishing ventures. Lesya Ukrainka had three younger sisters, Olha, Oksana, and Isydora, and a younger brother, Mykola. Ukrainka was very close to her uncle Drahomanov, her spiritual mentor and teacher, as well as her brother Mykhaylo, known under the pseudonym Mykhaylo Obachny, whom she called "Mysholosie.