Новая дата еще не подтверждена

Господа любители изящной музыки!
Дуэт 5'NIZZA из навеки вольной Украины даст большой парадный концерт в Лондоне 28 Февраля 2022 года в клубе Scala.
Господа любители изящной музыки!
Дуэт 5'NIZZA из навеки вольной Украины даст большой парадный концерт в Лондоне 28 Февраля 2022 года в клубе Scala.
18+ ID required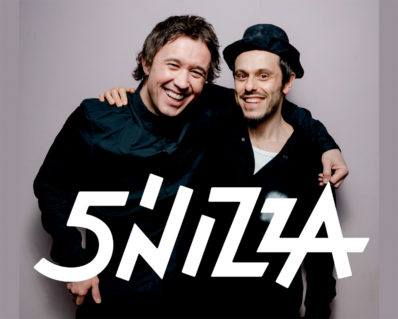 5'nizza (читается «Пятница») — украинский музыкальный дуэт из г. Харьков, исполняющий песни в стиле хип-хоп, регги и фанк, существовавший с 2000 по 2007 годы, а также с 2015 года. За годы своего существования коллектив записал три полноформатных студийных альбома. 4 марта 2015 года группа ...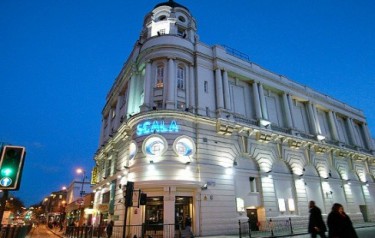 The Scala
Venue Scala is a beautiful multi-purpose venue in the regenerated King's Cross area, on the north side of central London. The building incorporates four main floors and accommodates events for just over 1000 people.

There are three bars, two dance floors and a large stage for live performances. We do not assign seats to tickets. There is limited seating on each floor. Scala stage view from balcony

Main Room & Stage

The main room is spread across a series of terraces with a low dancefloor and low stage. There's a long balcony on one side of the room accessed from the mezzanine level. This balcony can function as a VIP space when needed. As there is no bar in this space it works well for more acoustic performances.

Scala Foyer BarFoyer Bar

The Foyer Bar is a large room with a beautiful terrazzo floor and a high vaulted ceiling. It has two staircases on either side leading into to the main room. You'll also find a small lounge with a low ceiling called the Foyer Den. There's a DJ booth which functions as a merchandising booth too.

Scala Glass BarGlass Bar

The Glass Bar is on our mezzanine level. We have a number of comfy sofas beside large windows overlooking the main room. You can get to this bar from the main room or Balcony Bar. The Glass Bar sometimes functions as a VIP bar.

The balcony bar is a large square shaped room on the top floor, with a wide balcony overlooking the main floor. There are a number of booths with seats and a DJ Booth. We have a temporary wall and stage system we install when there is a DJ or live performance in this space. The kitchen is also on this level behind the bar.
020 7833 2022

275 Pentonville Road, London, N1 9NL
Public Transport

Scala is a 3 minute walk from Kings Cross and St Pancras Rail Stations. Turn left out of the station and on to Pentonville Road you will see us on the next junction.

London Underground

Scala is a 3 minute walk from Kings Cross Underground Station. Underground lines at this station include Piccadilly, Northern, Victoria, Hammersmith & City, Metropolitan and Circle lines.

Buses

Buses that run along Pentonville Road include 30, 73, 214. Additional buses that stop at Kings Cross Station include 10, 17, 45, 46, 63, 91, 259.