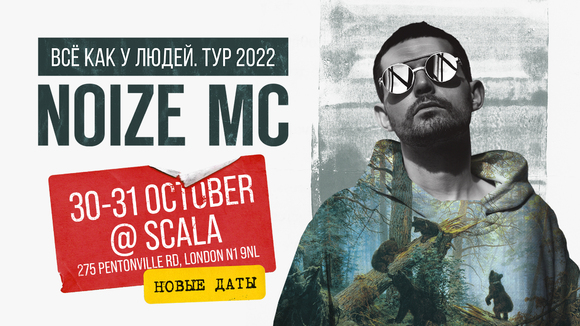 Sold out
schedule
31 Oct 2022
DOORS 18:30
Important info:
ID required 18+
Noize MC in London - 31 October
English:
This time we are waiting for a special program consisting of the most iconic songs of the band for all 17 years of the group's existence, as well as fresh tracks that have already managed to find love and popularity among the audience.
At this concert there will be everything that we love so much in Noize MC: individual musical style, sarcastic rap on topical themes, sensual, romantic songs in acoustics, as well as Ivan Alekseyev's unique freestyle talent – whoever has heard at least once will never forget this performance!
Russian:
Noize MC приедет с особенной программой, состоящей из самых знаковых песен коллектива за все 17 лет существования группы, а также свежие треки, уже успевшие обрести любовь и популярность среди слушателей. На этом концерте будет всё, что мы так любим в Noize MC: индивидуальный музыкальный почерк, саркастический рэп на злободневные темы, чувственные, романтические песни в акустике, а так же уникальный фристайлерский талант Ивана Алексеева — кто хотя бы раз слышал, не забудет этот перформанс никогда!