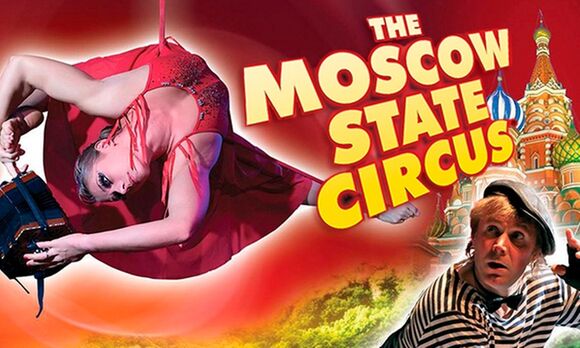 On sale
schedule
02 Jun 2016
DOORS 14:00
location_on
Lillie Road Recreation Ground
London
Important info:
Гастроли пройдут в районе Fulham с 27 мая - 5 июня Lillie Road Recreation Ground Пятница 27 мая в 17:00 Суббота 28 мая в 15:00 и 18:00 Воскресенье 29 мая в 14:00 и 17:00 Понедельник 30 мая в 14:00 и 17:00 Вторник 31 мая в 15:00 и 20:00 Среда 1 июня в 15:00 и 20:00 Четверг 2 июня в 15:00 и 20:00 Пятница 3 июня  в 15:00 и 20:00 Суббота 4 июня в 15:00 и 18:00 Воскресенье 5 июня в 12:00 и 15:00
Московский цирк в Лондоне
The Moscow State Circus returns to the UK with its latest & greatest production to date, basedon the Russian folklore story of Cvetik-Semicvetik or 'the flower with seven colours' by Valentin Petrovich Katayev where each of the petals represent a wish and is the perfect back drop for what is undoubtedly the greatest & most famous circus on earth.cko & his crazy side kick Natalia Mezentceva invite's the audience to a wondrous & mysterious enchanted garden, a place where dreams come true and a place to see magnificent feats of human achievement, the like of which have never been witnessed in Great Britain before.
As our Loveable Buffoons guide us through this tantalizing tale, granting wishes to the beautiful Kushka Veslovskaya who plays Zhenya, surrounded by a multitude of flying, back flipping, juggling, wire walking & roller-skating performers.
This year's show features:
The the award winning Troupe Leontiv – flying parallel bars
STYNKA on the horizontal bouncing Russian bar
VESLOVSKIY roller-skating revolutions
ELIZA KHACHUTRYAN Ballerina on the High wire in the roof of the big top
TRIO ATLAS on the floating globes
OLGA ROZHKOVSKAYA devastating wirewalker
MOSCOW flying jugglers & dynamic Diablos.
Don't miss this amazing show, created especially for its first ever-European tour, all housed in a state of the art air-conditioned big top!