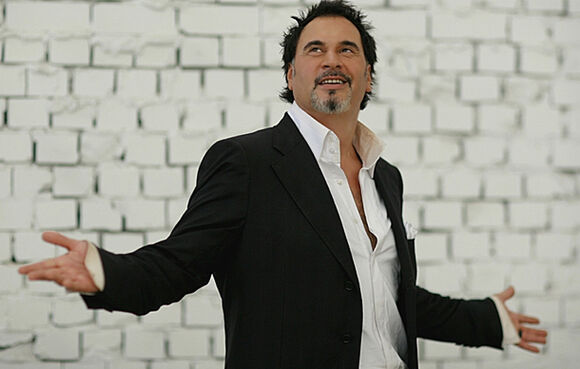 On sale
schedule
22 Oct 2013
DOORS 18:30 pm
location_on
The Troxy
London
Important info:
Using cameras, camcoders and mobile phones is prohibited! ATTTENTION!We will be holding a Charity Auction in White Room of the Troxy Theatre straight after the concert. Exciting prizes offered by international designers, leading cosmetic firms and top restaurants would be аuctioned with all proceeds (including afterparty tickets) going to charity. Full support of Russian Embassy, Rossotrudnichestvo, press and TV coverage.
Valery Meladze Live London Concert
By purchasing tickets through this link you are making sure that part of the proceeds would go to UK and Russia`s Charities in support of children and families.
Valeriy Meladze is one of Russia`s and CIS favourite singers, steadily topping charts for the past 20 years. Valeriy`s unique singing style combined with his elegant demenor and intriguing lyrics prompted his fans to refer to him as `'The Last Romantic`.
Sad longing, exhubirant passion, fragile hope or celebration of shared love feelings seep through Valeriy`s songs into the hearts of everybody listening to his music. Now Valeriy is bringing his magic voice and passion to London!This very special October Concert is called `20 Stories of Love` and include a selection of Valeriy`s most popular love songs.
Valeriy Meladze is a Russian singer of Georgian descent. Although Valeriy played piano as a child, he saw his career as a successful engineer. In 1983 Valeriy graduated from the Nikolaev Shipbuilding University, followed by PHD. However, love of music led him to perform in student band Aprel. He was so good that in late 80s Valeriy was invited to join the famous `Dialogue` rock-band as a lead singer, where he performed with his brother Konstantin (keyboard) until the early 90s.
The experimental romantic song, written by Konstantin and performed by Valeriy in a very distinct style has brought a widespread acclaim to brothers, turning their lives around.
This hallmark song 'Ne trevozh mne doushou, skripka' (Do not disturb my sole, violin) has achieved prestigious 'Musical Discovery of 1994' award, prompting brothers to concentrate on music career only. Next album `Sera` was an instant best-seller of 1995. Up to now 6 more albums were released, making Valeriy Meladze one of the top 20 popular Russian performers.
Muz-TV National music award went to Valery Meladze twice, as a best performer of the 2004 and 2005. His alliance with 'VIA Gra' in 2004 also got the Best duo of the year twice: Muz-TV National music award and MTV Russian music award. Best Singer nomination of Russia was awared to Valeriy in May 2013.
Дорогие друзья!
Агентство Архив и компания LiveStageLondon приглашают вас на концерт Валерия Меладзе. При звуках этого имени на ум сразу приходят созданные им творческие образы бродячего романтика, трубадура, поющего о сжигающей его любви или искушенного сердцееда, который все же не утратил способности мечтать. Валерий Меладзе – это, прежде всего, собственный формат музыки и песенной поэзии, неизменным автором которой является брат певца, Константин Меладзе!
Необычные, часто философские тексты песен привлекают к творчеству Валерия Меладзе все новых и новых поклонников, которые, завоеванные однажды, остаются верными ему до конца.
Валерий Меладзе также является инженером, кандидатом наук, Заслуженным артистом Российской Федерации (2006) и Народным артистом Чеченской республики (2008 ).
Впервые в Лондоне с сольным концертом Валерий Меладзе выступит во вторник, 22 октября 2013 года в зале театра Troxy.
Билеты 40-250 фунтов.
Двери открыты с 18. 30. Концерт 19.30.
Для Заказа билетов на афтерпарти пройдите по ссылке
VIP пакеты 250, 220 и 160 фунтов.
VIP зона партера за 250 фунтов включает в себя столики cabare-style около сцены на 10.
VIP зона балкона за 220 фунтов включает в себя столики на 4 или 2 человек и первый ряд балкона 160 фунтов.
* первый ряд балкона – отдельный вход в театр, обслуживание официантами и welcome drink.
Все VIP пакеты включают в себя отдельный вход в театр, обслуживание официантами, канапэ, сладости домашнего приготовления и welcome drink*.
AFTERPARTY
Афтерпарти в White Room зала Troxy после концерта 100 фунтов с посещением Артиста! А также живая музыка, канапэ, welcome drink.