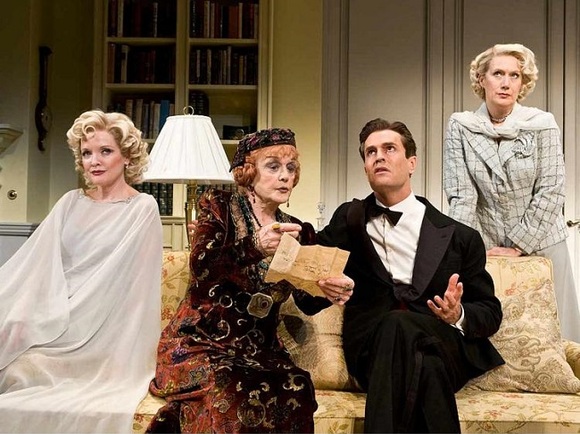 On sale
schedule
01 Mar 2014
DOORS
Important info:
Please Note: A £1 restoration levy (collected on behalf of the theatre) appears as part of the face value. A £2.75 transaction fee applies (this will be added to your order on the payment page) Previews 1-17 March 2014 Booking Period Until 7 June 2014
Blithe Spirit
BLITHE SPIRIT
Theatre legend, Oscar-winner and five-time Tony Award-winner Angela Lansbury returns to the West End this spring for the first time in nearly forty years, in a new production of Noel Coward's Blithe Spirit.
Angela will reunite with director Michael Blakemore to reprise her 2009 Tony Award-winning role as Madame Arcati. Angela, whose stage and screen career spans seven decades, is known to millions as the much-loved Jessica Fletcher from the hit TV series Murder She Wrote, as well as her numerous roles on Broadway, in the West End and on film. Angela will be joined on stage by Janie Dee, Charles Edwards and Jemima Rooper.
Researching for his new novel, Charles Condomine (Charles Edwards) invites the implausible medium Madame Arcati (Angela Lansbury) to his house for a seance. Whilst consumed in a trance, Madame Arcati unwittingly summons the ghost of Charles' dead wife Elvira (Jemima Rooper). Appearing only to Charles, Elvira soon makes a play to reclaim her husband, much to the chagrin of Charles' new wife Ruth (Janie Dee). One husband, two feuding wives and a whisper of mischief in the air – who will win in Coward's unworldly comedy?
Be spirited away this spring with a performance not to be missed.