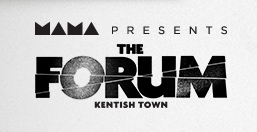 The Forum
The Forum, or sometimes Kentish Town Forum is a concert venue in Kentish Town, London, England owned by MAMA & Company. The venue was built in 1934 and was originally used as an art deco cinema. After the cinema was closed, the venue re-opened as an Irish dance hall called The Forum. In the mid-1980s, it changed direction to a 2,100 capacity live music venue under the name of The Town & Country Club. The venue has standing downstairs and benched seating in booths on the upstairs balcony, or a fully seated layout for certain shows.
020 7428 4099

http://mamacolive.com/theforum/
The Forum, 9-17 Highgate Road, Kentish Town, London, NW5 1JY
From Kentish Town tube station, turn right out of the station and at the junction of Highgate Rd and Fortress Rd, take the left hand fork on to Highgate Rd. The Forum is 100 yards up on your left.
18 Jan 2017
10 Jan 2017
10 Jan 2017
30 Nov 2016
20 Jul 2016